Due to the unsafe road conditions we will be having another Snow Day Friday, February 4th. Stay Safe.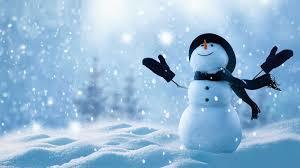 We will be having a Snow Day,Thursday, Feb 3rd. Stay Home and Stay Safe.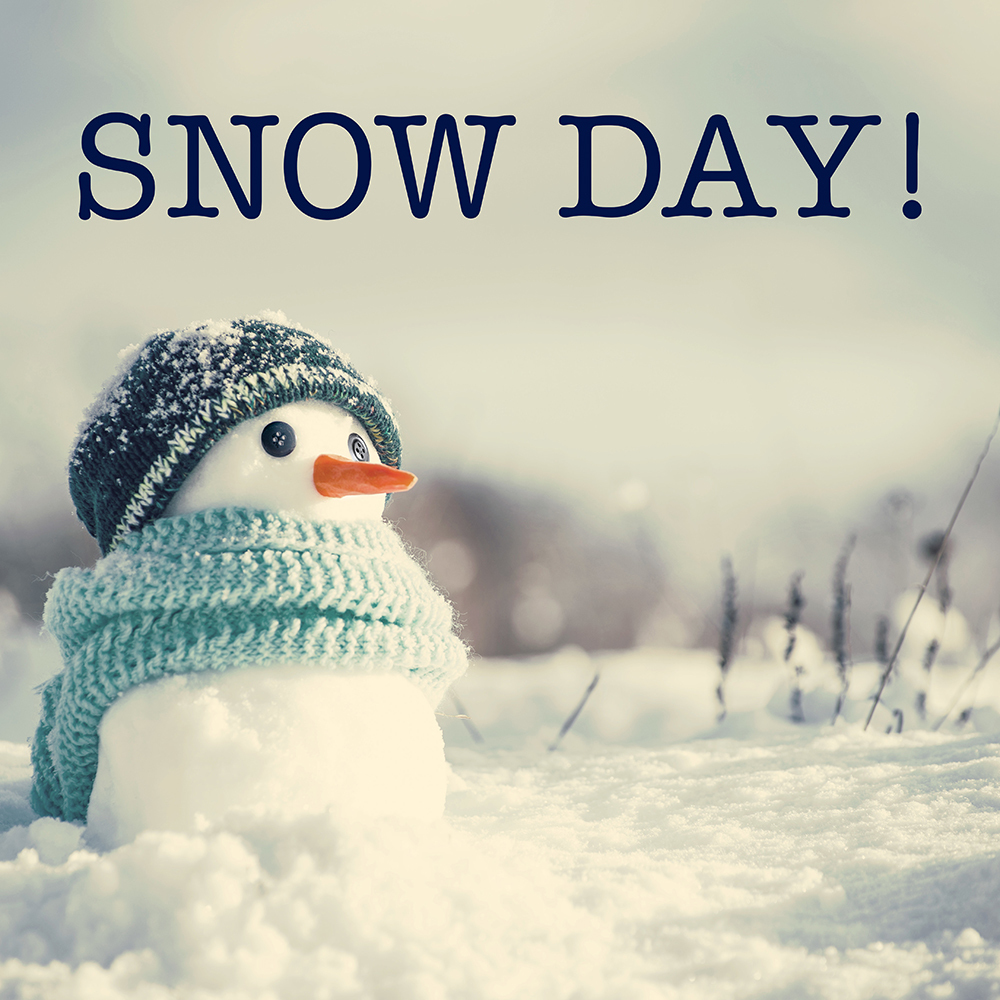 No School, Wednesday Feb 2nd, due to the Weather.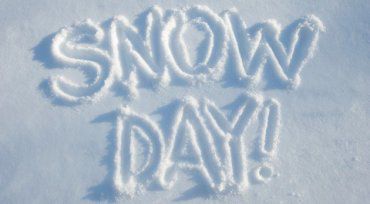 Reminder... This Wednesday, January 26th is a 1:30pm dismissal.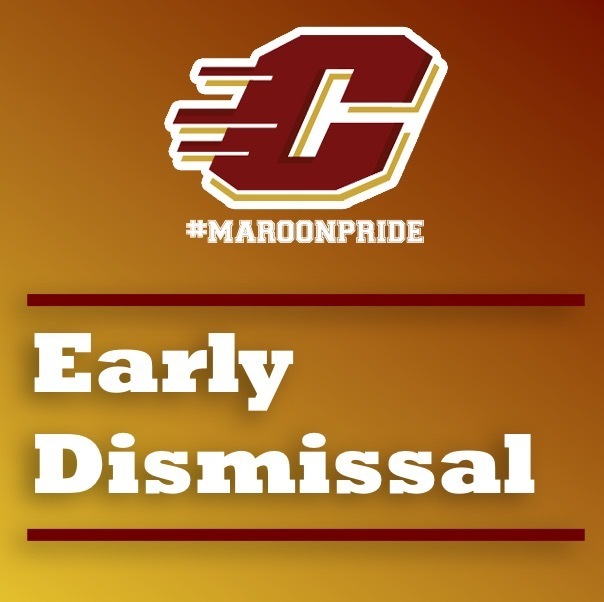 Reminder...Tomorrow, Wednesday, January 12th is a 1:30pm dismissal day.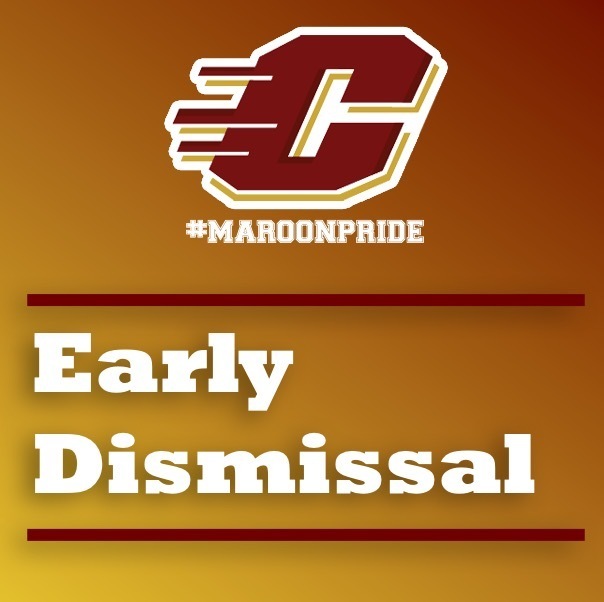 Friday, December 17th will the be the last day of school before Winter Break! PLEASE NOTE THAT SCHOOL WILL DISMISS at 2:20 PM on Friday the 17th. Students will return to school on Tuesday, January 4th. We wish you well and hope you have a wonderful holiday.

Lunch changes for Wednesday Dec 15th... The Holiday meal will be canceled tomorrow Dec 15th. We will have a Welcome Back meal in January when all students will be able to enjoy. Lincoln and Douglas will have Pizza Rolls, Green Beans, Cookies, and fruit of the day. CES will have Sloppy Joe, Green beans, Cookies, and fruit of the day.

Help the Class of 2022 Help our Clinton Community! Please read the attached flier.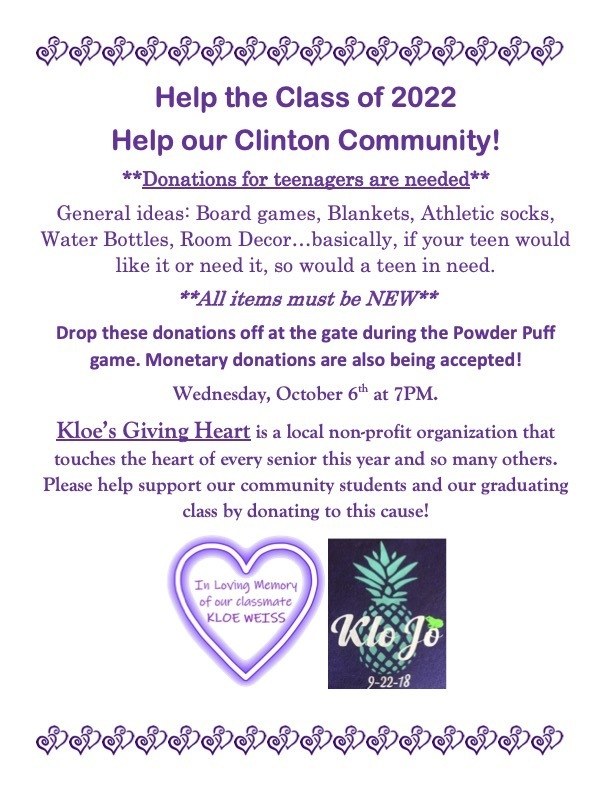 Clinton CUSD #15 is seeking full time Bus Drivers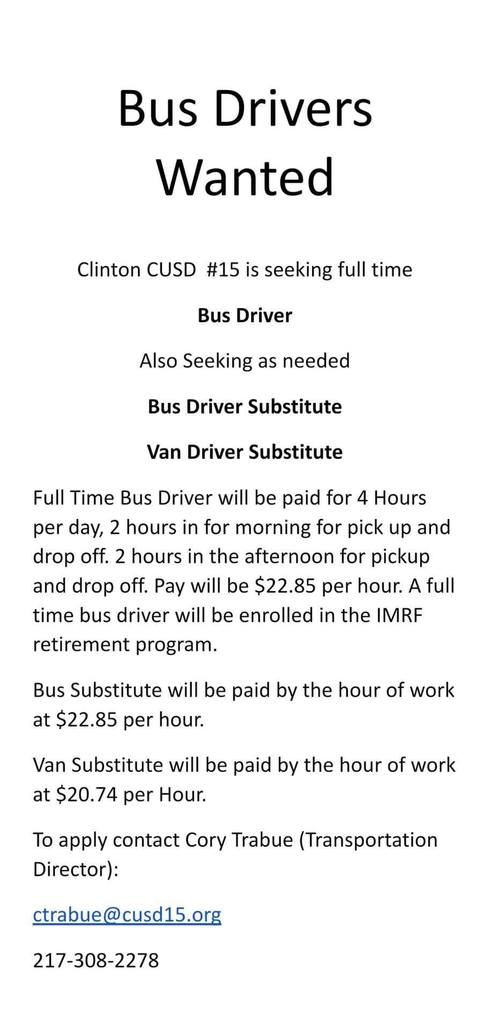 Take a look at what is happening at the Vault for the rest of the month of March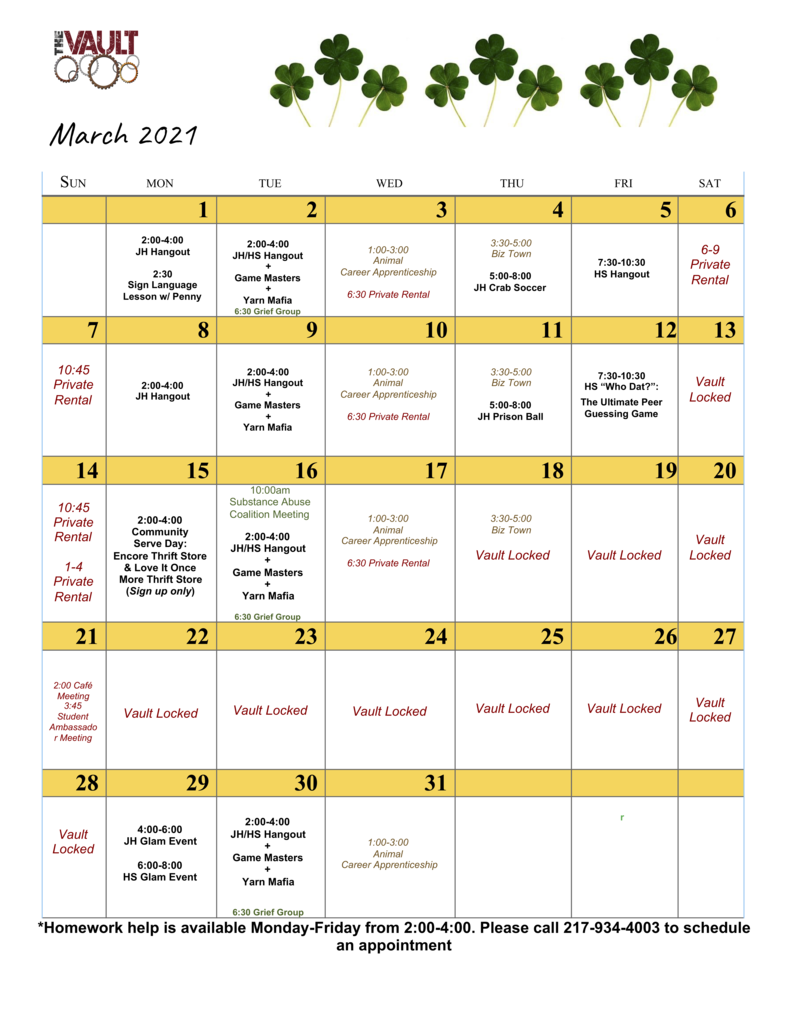 Game Masters and Yarn Mafia meet 2-4 pm every Tuesday @ The Vault.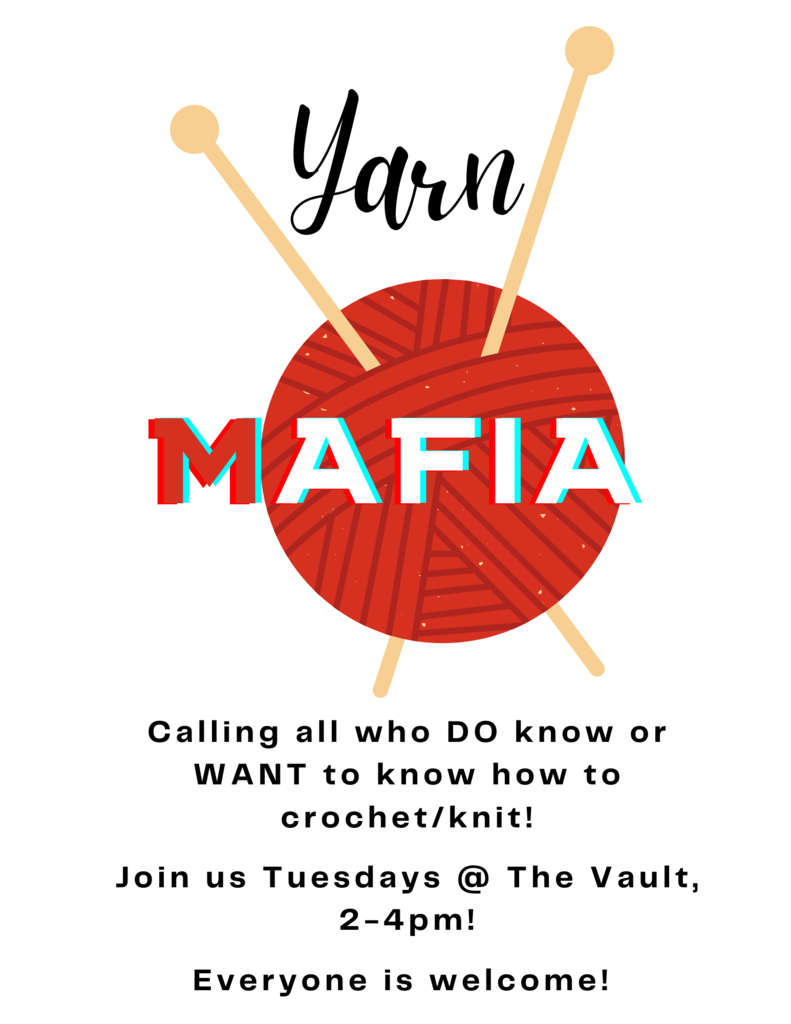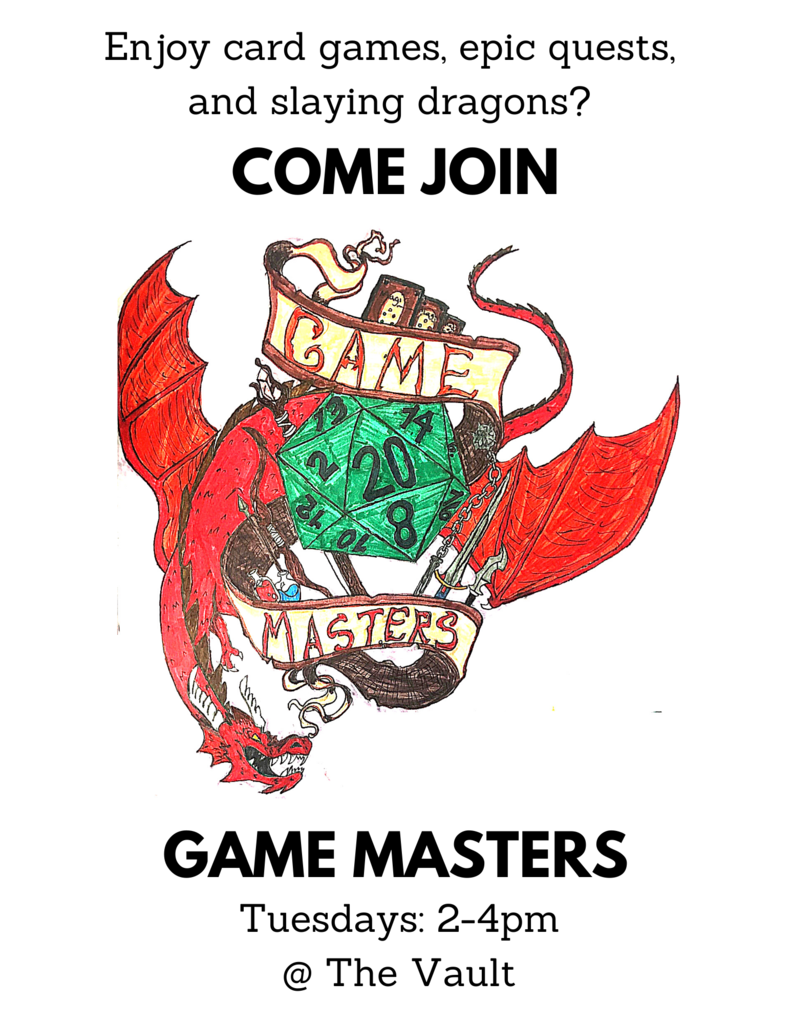 This week at the Vault Monday, March 15th - Saturday, March 20th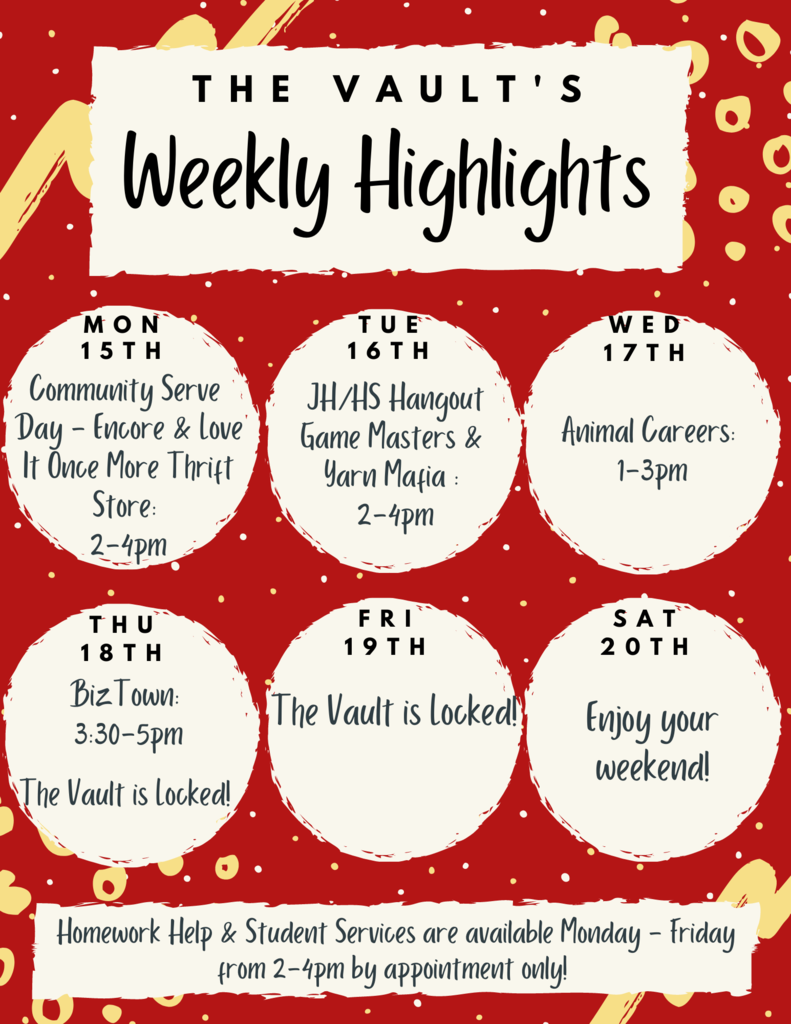 Don't forget... Monday Nights GO to Monical's Pizza and Support the Vault. Every Monday night from 5-9 p.m Clinton Monical's will donate 50% of their sales to Vault Community Center.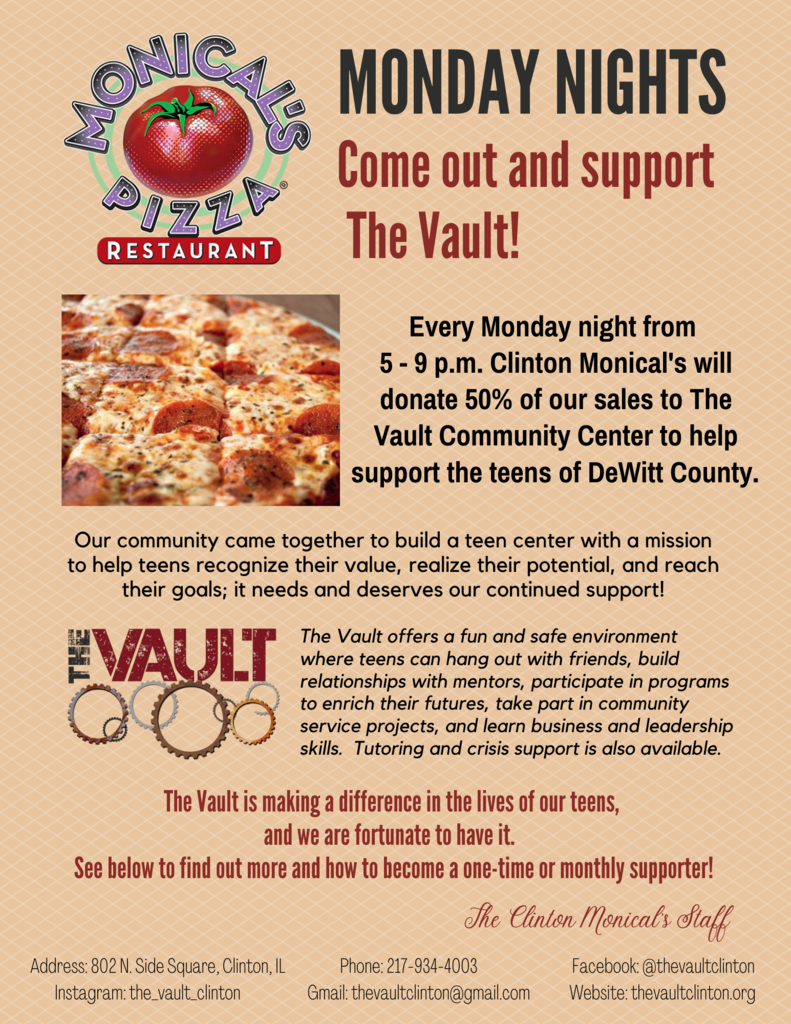 Congratulations Cole Young!!! Cole is the District Winner in Swine Production - Entrepreneurship he now advances to State in FFA!!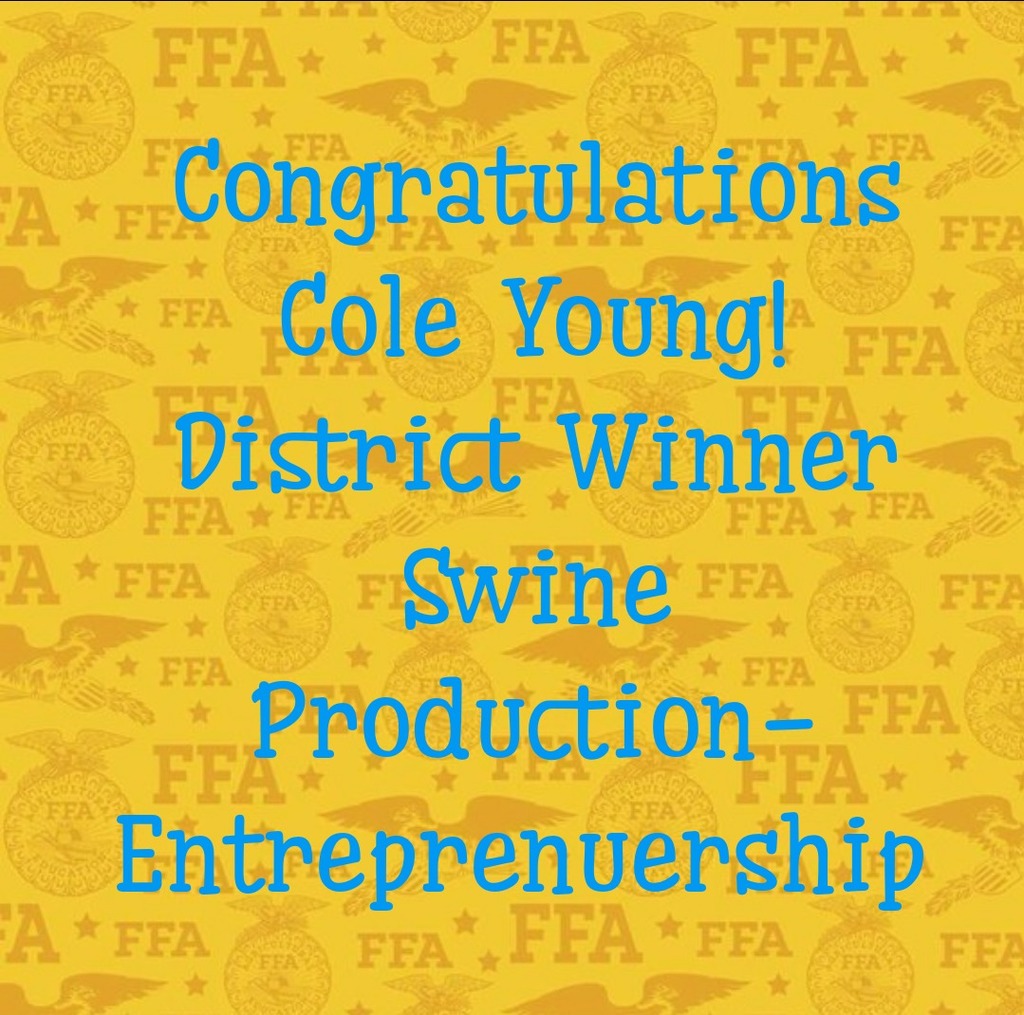 DeWitt/Piatt Bi-County Health Department is looking for volunteers to assist with our COVID-19 Mass Vaccination Clinics. The volunteer would serve in the capacity of "CLERK/RUNNER" and would involve helping with paperwork at the clinic with each vaccinator, accompanying patients to the vaccinator, ensuring paperwork is completed by each patient, taking temperatures and screening for COVID related symptoms at check in, etc. If you can help, or can forward this email to help us find volunteers, we are looking for residents of DeWitt and/or Piatt Counties only. We have the following dates/times available for the month of April: Piatt County Clinics (located at the Monticello Community Building on State St in Monticello - the old library building): All clinics run from 1:30 to 4:30 p.m. (please arrive 20 mins early) April 7 April 12 April 14 April 19 April 21 April 26 April 28 DeWitt County Clinics (located at Clinton HS – West Gym, enter through the Sports Entrance) All clinics run from 2 p.m. to 4:30 (please arrive 20 mins early) April 6 April 8 April 13 April 15 April 20 April 22 April 27 April 29 Please email me with dates you'd like to help! You CAN choose MORE than one date if you'd like. If you're receiving this from another person, my email is
dremmert@dewittpiatthealth.com
All volunteers are eligible to receive vaccination at the clinic they assist with. Thank you for your help! David M. Remmert, M.P.H., Ph.D. Public Health Administrator DeWitt/Piatt Bi-County Health Department

CJHS English depart invites the community to eat at Monical's pizza for community day fundraiser Today, March 9th. Please make sure you take the PAPER FLYER with you when you place your order so we received credit. Paper flyers went out, Monday March 8th. #MaroonPride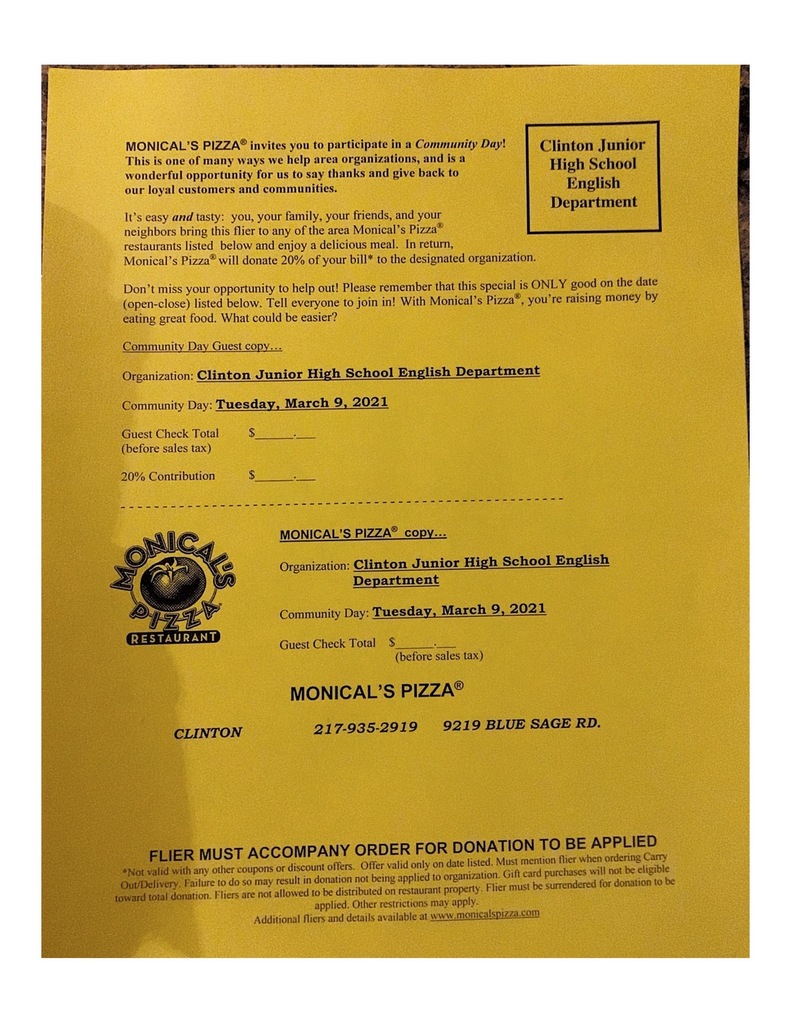 Vacancy Posting for Transportation Coordinator Start Date June 1, 2021 Application deadline March 19th 2021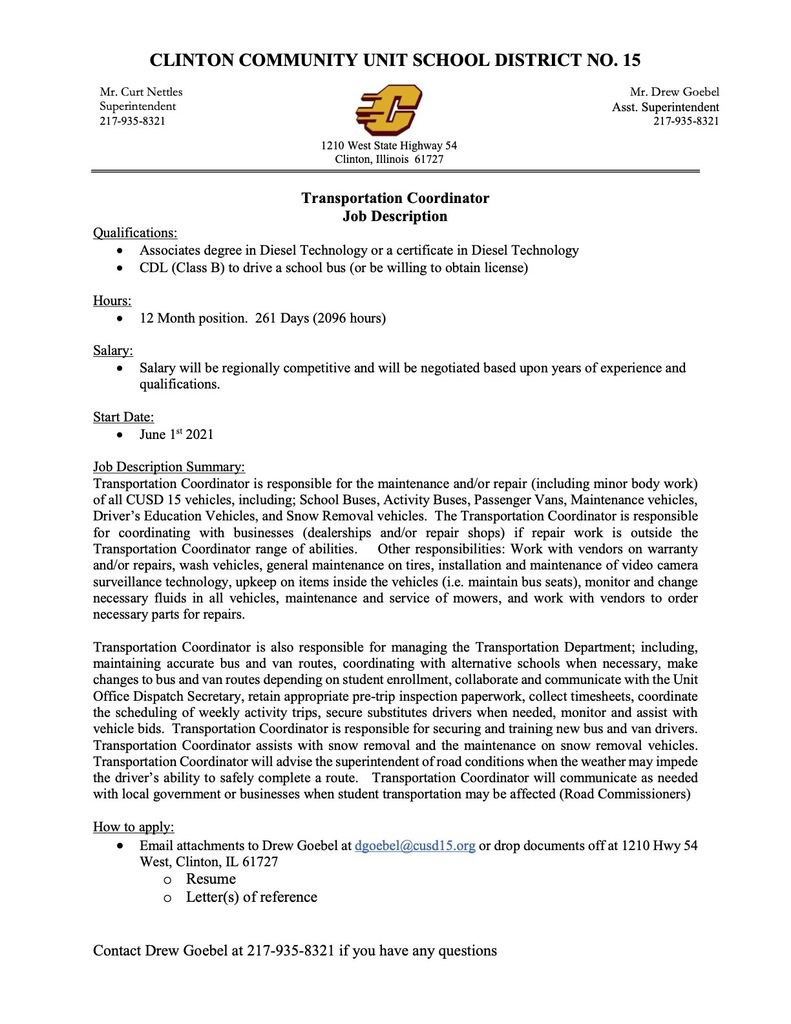 Drive your Tractor to School Day in Honor of FFA Week